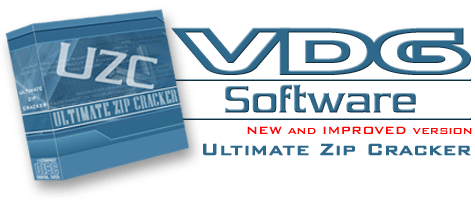 Search up to 15 Million passwords per second (YES PER SECOND)
The Ultimate ZIP Cracker is designed for recovering lost passwords from many popular file types:
MS-Word documents (*.DOC), Office 97-XP. MS-Excel documents (*.XLS), Office 97-XP. ZIP archives created by PKZIP, Win Zip or by any compatible software.
ARJ archives created by ARJ, WinArj or by any compatible software.

The program offers the following search methods:

Password Wizard provides easy step-by-step password recovery.
Brute Force Attack will test all possible passwords.
Smart Search will test all "pronounceable" passwords.
Dictionary Search can use a built-in or external dictionary.
Date search will apply more than 5,000 date formats to a given date range. Customized search will use your own search template.
Guaranteed decryption method will decrypt your .DOC or .XLS file regardless of password used. Now supports multiple CPUs!.
Plaintext attack will decrypt your whole encrypted .ZIP file if you have another unencrypted ZIP file (called plaintext file), which contains at least one file from the encrypted archive.
The trial version of Ultimate ZIP Cracker will reveal your password free of charge (for up to 5 characters in length). For all passwords greater than 5 characters you will need to purchase the full version. In addition you can buy a single password recovery (one password). Also the trial version will show you the first decrypted bytes of the files in the ZIP, ARJ or DOC so you know it works.

Read some testimonials
I had old company financial papers password protected so no one else could read them. The password was so good that I forgot it. My boss wanted the documents ready in 24 hours for corporate review. This UZC password recovery programmed saved me. It found my password in less than an hour.
>>>>Steven S., Phoenix, AZ

I knew for sure the password I created was my birthday. But for some reason it did not work. After trying 20 times I knew something was wrong. I really need this document in time. When I phoned MS WORD technical support they were not able to help me and told me the document was encrypted and could not be opened without the password. Devastated I would need to retype my entire document, I purchased UZC, and it found the password so fast!
>>>>Jennifer, D., Austin., Los Angeles , CA

We recently fired an employee. When trying to open his customer list, we found the documents password protected. Our former employee refused to cooperate. It came to a point that we even considered legal action. The password recovery program UZC was an incredible asset. Not only did it find the password, it saved us the headache of court, and other legal fees. Your program is amazing and wow, the speed it works is unbelievable.
>>>> Jacob R., Boston, MA
Click here to purchase>>>

Click here for Frequently Asked Questions>>

Click here to download a FREE DEMO>>>